The Kilgarriff Funeral Home
Having invested in our business, The Kilgarriff Funeral Home in Ballaghaderreen has recently undergone a complete refurbishment, the biggest project since the Kilgarriff family started trading in 1792.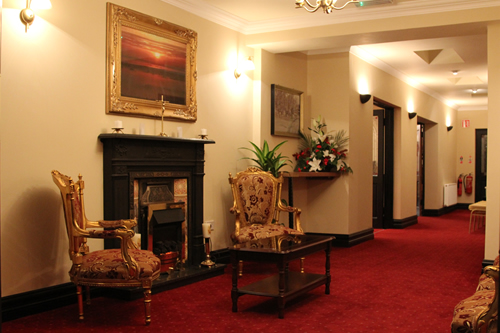 Our aim is to create a comfortable and intimate setting that one would experience in the family environment. We want our visitors to feel welcome and comfortable in our funeral home.
Many of our bereaved families choose our funeral home as a more practical option for the removal. We are able to cater for the larger crowds of people who often attend funerals.
On arrival you enter a spacious foyer, this area has been tastefully decorated, and paintings of landscapes adorn the walls. A large picture of a traditional horse drawn carriage depicts a funeral we directed in Ballinagare in Autumn 2011 and this proudly furnishes the hallway. This is an area where visitors can meet and sit in comfort beside the fireplace.
Our main visitation room is spacious with ample seating for family and friends to sit with the deceased as visitors offer words of sympathy.
The centre piece of this room is a large bog oak sculpture, this embraces the special area where the deceased lies. It is hand carved with three
intertwined circles. This piece of oak was salvaged from neighbouring peatland and was carved by a local craftsman. The significance of this piece of oak is that both country and town people spent many hard summers cutting and harvesting the peat that was then burned in the fire at home throughout the year. Families congregated together around the fire, a focal point in both happy and sad times.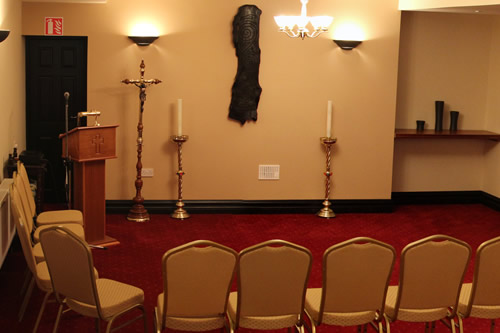 Prior to the closing of the coffin or casket visitors will move to the foyer to allow families to gather together one last time to spend a few final moments with their loved one, before saying their final 'Goodbye'.
For those wishing to take some private moments away from the main funeral we have an ante room available, we have also incorporated a private smoking area into our premises.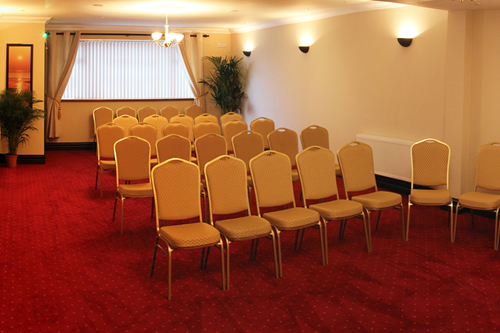 Kilgarriff Funeral Directors are members of the "National Association of Funeral Directors" the "Professional Embalmers Association of Ireland" and the "Death Care Academy of Ireland". In so being, we believe we can be assured of their help, advice and assistance whenever the need may arise. It also gives us the opportunity to maintain our high standards as we continue to provide a professional and understanding service to the community we are proud to be a part of.